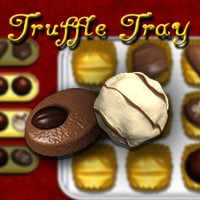 The truffle chef has received an order for a tray of truffles.
The truffles are to be served at a formal reception at Lady Godiva's mansion.
Alas, the lady is very picky about the truffles being served to her guests, and how they are arranged on the tray.
Can you help the truffle chef prepare the Lady's order on time?
System Requirements
OS: Windows 98, Windows 2000, Windows XP, Windows Me
Memory: 64MB
CPU: 400Mhz
Score: 0.0, votes: 0