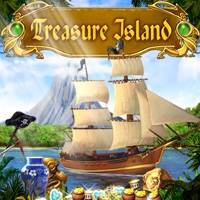 Yo ho ho an' a fancy match-3 fer ye scurvy dogs!
Discover booty buried by pirates long ago and watch their jolly dance as ye sail through each bountiful level!
Follow the path marked on ye old map by matching treasure horizontally, vertically and even diagonally!
Play Classic Mode to complete each level before the powder keg explodes, or Timeless Mode if ye be a wee more lily livered about loud noises!
Dasn't ye be the landlubber whut deserves the black spot!
Try it today!
System Requirements
OS: Windows 98, Windows 2000, Windows XP, Windows Me, Windows NT
Memory: 64 MB
DirectX: 8.1 or later
CPU: P2 500
Video: 16mb 3D Video Card
Score: 0.0, votes: 0