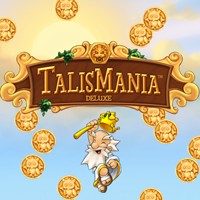 King Midas needs your help!
Everything he touches turns to gold -- food, drink...
even his own daughter!
Travel back in time and help Midas break his golden curse in this dazzling puzzler.
Connect magical talismans to build up wealth and battle legendary monsters from ancient Greece.
Power-ups and bonus levels give you the edge you need to twist your way through 80 levels of fun!
Featuring fantastic graphics, addictive gameplay, and an original storyline, Talismania is bursting with puzzling fun!
System Requirements
OS: Windows 98, Windows 2000, Windows XP, Windows Me
Memory: 128 MB
DirectX: 7.0 or later
CPU: P500
Video: 16 bit Graphics Card
Score: 10.0, votes: 1