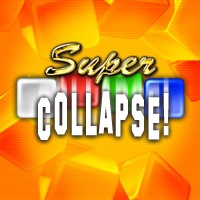 Super Collapse is simply a blast!
Find rows and columns of three or more like-colored blocks; click them and they disappear, collapsing the rows and columns above.
Easy, right?
Watch out though, more lines are stacking up at the bottom (and speeding up), and as soon as any column reaches the top, it's game over!
Super addictive and great fun for the whole family!
System Requirements
OS: Windows 95, Windows 98, Windows 2000, Windows XP, Windows Me
Processor: P-200
Memory: 16 MB
Disk Space: 2.9 MB
DirectX: Version 6.0
Score: 0.0, votes: 0