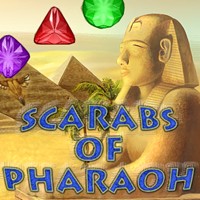 Journey to the ancient past for brain-bending fun in this innovative puzzler.
Move three brilliantly colored jewels of different sizes into a group and they'll disappear off the screen.
Work quickly and the Pharaoh will be pleased.
Take too long, and the Pharaoh will snatch away your glistening gems.
A vivid puzzle challenge, Scarabs of Pharaoh features loads of challenging levels, addictive gameplay, and a stirring Egyptian theme.
The ancient world hasn't been this much fun for your brain since the days of the Sphinx!
System Requirements
OS: Windows 98, Windows 2000, Windows XP, Windows Me
Memory: 128 MB
DirectX: 7.0 or later
CPU: P600
Score: 0.0, votes: 0