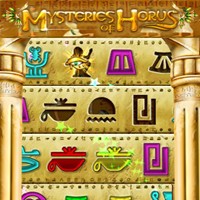 Appease the gods of Ancient Egypt in this remarkable brain-bender!
Grab colorful symbols and place them in the rolling rows.
Smart play will earn you gems to buy bonus items and special gifts to keep your god smiling, but only puzzlers with a fast eye and quick clicks will be rewarded with radiant amulets!
Featuring stunning graphics, addictive gameplay and 100 dazzling levels, Mysteries of Horus is a thrilling quest for the entire family!
System Requirements
OS: Windows 98, Windows 2000, Windows XP, Windows Me
Memory: 128 MB
DirectX: 8.0 or later
CPU: P300
Score: 4.5, votes: 2