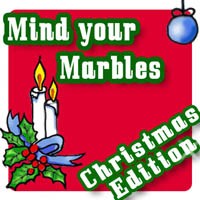 Yuletide challenge!
Mind Your Marbles just takes a minute to learn but you never stop developing your strategy.
Stunning Christmas graphics, great sound, soothing music, a wealth of modes, multiple difficulty levels and online scores and statistics make this deceptively simple game endlessly addictive.
Be the world's best Marble Minder this Christmas!
System Requirements
OS: Windows 95, Windows 98, Windows 2000, Windows XP, Windows Me, Windows NT
Memory: 32MB
CPU: Pentium
Score: 0.0, votes: 0