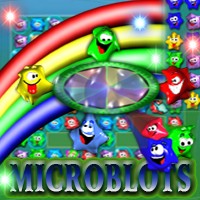 Welcome to the sliding, popping and matching world of Microblots!
It's a magical good time with this fantastic brainteaser!
Microblots, good-natured fairy creatures, are fond of painting castles.
To help them, you need to place 3 or more blots of the same color together to remove them.
Some of the blots are hiding in bubbles and to remove them you need to burst the bubbles they are hiding in.
The more blots you remove the faster you paint a castle.
Become a Knight of the brush with Microblots!
System Requirements
OS: Windows 98, Windows 2000, Windows XP, Windows Me
Memory: 128 MB
DirectX: 7.0 or later
CPU: P733
Score: 0.0, votes: 0