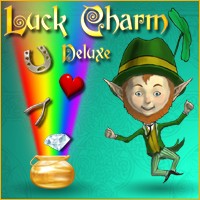 Take a magical journey to a world of Luck Charms and Leprechauns in this captivating new puzzler!
Do you have the skills to master this fantastical world?
Your Leprechaun teacher will guide you through 100 levels of charm-matching trials!
Discover your Lucky Streak by raising the enchanted rainbow and filling your pot with gold.
Impress the mystical Leprechauns across the land by matching up to 60 luck charms in a row!
See how lucky you can be!
System Requirements
OS: Windows 98, Windows 2000, Windows XP, Windows 98SE
Memory: 128 MB
DirectX: 6.0 or later
CPU: P2 800
Score: 0.0, votes: 0