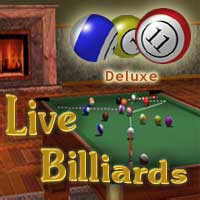 A 3D digital billiards game.
Features Straight Pool, 14+1, 3 ball, 8 ball, 9 ball, exotic Pyramid, American, Rotation and DeathMatch games.
Ball view and physics are perfect and permits to use any English or masse shot.
Network mode works over LAN or Internet, supports online competitions, thus maintaining the realism of championship style pool games!
System Requirements
OS: Windows 95, Windows 98, Windows 2000, Windows XP, Windows Me, Windows NT
Processor: Pentium 200
DirectX: 6.1
Display: 3D accelerator
Score: 0.0, votes: 0