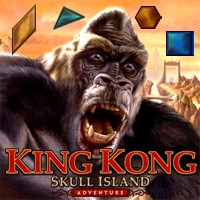 Uncover the greatest mystery of all time in this puzzle adventure of epic proportions!
Journey through time and halfway around the globe with Kong: Skull Island Adventure.
Featuring a richly illustrated story, cinematic soundtrack, two modes of play and over 100 varied levels, this game will transport you to a world of mystery and action, and the home of one of the most popular characters of all time!
System Requirements
OS: Windows 98, Windows 2000, Windows XP, Windows Me
Memory: 128 MB
Sound: DirectX compatible Soundcard
CPU: P3 500
Graphics: OpenGL or DirectX Compatible 3D Graphics
Score: 0.0, votes: 0