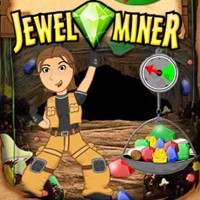 Your favorite Gold Miner characters are back with a brand new adventure!
Join them as they take matching games to the next level!
The Jewel Miner is Gold Miner's niece, Julie, and it's up to her to save her uncle from financial ruin.
Help her complete 48 gem-filled levels with 9 priceless power-ups at your disposal.
Mix up your fun with both Story Mode and Cave-In Mode!
This game is easy to play but challenging from the first time you sit down, so start mining today!
System Requirements
OS: Windows 98, Windows 2000, Windows XP, Windows Me
Memory: 64 MB
CPU: P400
Score: 0.0, votes: 0