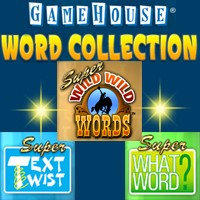 Three incredible word games in one deluxe package!
Take part in a word shootout at Hangman Corral in Super Wild Wild Words.
Challenge your brain with the word-find-with-a-twist -- Super WHATword!
Or, see how many words you can find with just 7 letters in Super TextTwist.
These games have already provided hours and hours of gaming fun for word fans all over the world.
Now, they can all be yours in this amazing collection.
System Requirements
OS: Windows 95, Windows 98, Windows 2000, Windows XP, Windows Me
Memory: 32MB
Score: 0.0, votes: 0