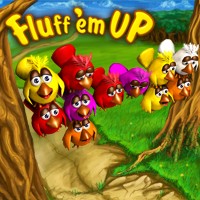 They're cute, they're fluffy and they're ready to accompany you on an unforgettable adventure!
Advance through the fairy kingdom making colorful fluffy bird combos.
Fill the vial with magic dust, collecting awards and trophies all along the way!
Enjoy 3 single player modes as you complete the Adventure, race against time in Arcade Mode or solve Puzzles.
You can also challenge your friend or a computer opponent in Duel mode!
It's innovative and original...
it's Fluff 'Em Up!
System Requirements
OS: Windows 98, Windows 2000, Windows XP, Windows Me
Memory: 64 MB
CPU: P2 500
DirectX: 8.1
Score: 0.0, votes: 0