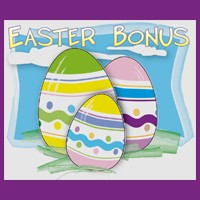 Fluffy chicks, chocolate eggs and the Easter Bunny...
we know you can't resist this hoppin' good match-3!
Slick and addictive, and really, really cute, this is a calorie-free treat for players of all ages.
With 110 Easterific levels and eggsceptional power-ups, let the hunt begin!
Spring into action and play Easter Bonus today!
System Requirements
OS: Windows 95, Windows 98, Windows 2000, Windows XP, Windows Me
Memory: 64 MB
DirectX: Any Version
CPU: P300
Video: DirectX Compatible Video Card
Score: 0.0, votes: 0