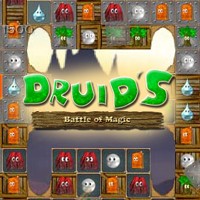 Help the druids find the thief who stole their magic book as you make your way down the path to the dark castle in this fantastic fantasy puzzler!
Make matches to generate power-ups by filling your manna meters!
Play through over 100 spectacular levels and then make some of your own with the in-game level editor.
It's a matching extravaganza not to be missed!
System Requirements
OS: Windows 2000, Windows XP
Memory: 128 MB
Sound: DirectSound Compatible
CPU: P800
Score: 0.0, votes: 0