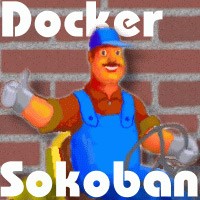 Docker Sokoban will test your thinking skills and entertain you with increasingly complex tests of logic.
Can you move the cargo to the right places without blocking yourself off?
Featuring several original innovations and high quality animated graphics, Docker Sokoban delivers you and your children many hours of brain-bursting fun!
System Requirements
OS: Windows 95, Windows 2000, Windows XP, Windows Me, Windows 9x
Processor: P-200
Memory: 32 MB
DirectX: Version 7.0
Display: 800x600
Score: 0.0, votes: 0