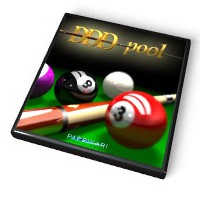 DDD Pool is a 3D pool game with cutting edge graphics, realistic physics and smooth gameplay that guarantees many hours of fun and pleasure.
Master the game in Practice mode, then play 8-ball and 9-ball pool against your friends or a computer opponent, or play against the clock in two challenge modes and enter the hi-score table.
Choose between three detailed rooms in which to play.
System Requirements
OS: Windows 98, Windows 2000, Windows XP, Windows Me
Memory: 64MB
DirectX: 8.0
Display: 16MB 3D Video Card
CPU: 400Mhz
Score: 0.0, votes: 0