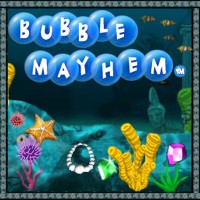 Pop bubbles to beat your high score or collect treasures from the deep!
Bubble Mayhem is an addictive romp through infinite levels of undersea landscapes in search of bubbles to pop and treasures to collect!
Set in an undersea world with tranquil music and expansive seascapes, Bubble Mayhem offers a soothing environment for its fun and unique gameplay.
Pop the bubbles and collect their treasures as fast as you can to continue to the next stage!
System Requirements
OS: Windows XP
Memory: 256 MB
DirectX: 9.0a or later
CPU: P600
Score: 0.0, votes: 0