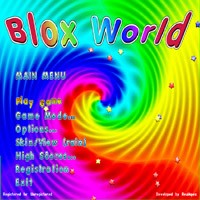 Blox World is one of the most original takes on an old classic you can find.
It boasts 14 unique game modes ranging from classic to ultra novel and features 3 game parameters - Advanced, Garbage, and Warped.
All together, you'll be challenged by more than 100 original game combinations!
You can play a new Tetris style game every day!
System Requirements
OS: Windows 95, Windows 98, Windows 2000, Windows XP, Windows Me
Processor: Pentium 200
Memory: 32 MB
DirectX: Version 7.0
Display: 640x480
Score: 0.0, votes: 0