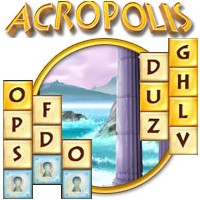 Travel across mythical lands and unearth stunning relics in this lexical adventure!
Link letters to find words hidden in the grid and glorious treasures will dazzle your eyes.
Find long words and unleash electrifying power-ups to aid your quest.
A word challenge of epic proportions, Acropolis is legendary fun for the entire family!
System Requirements
OS: Windows 95, Windows 98, Windows 2000, Windows XP, Windows Me
Memory: 32 MB
Sound: 16 bit Sound Card
CPU: P 233
Score: 0.0, votes: 0